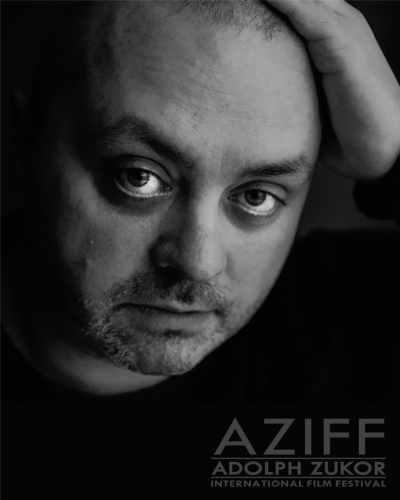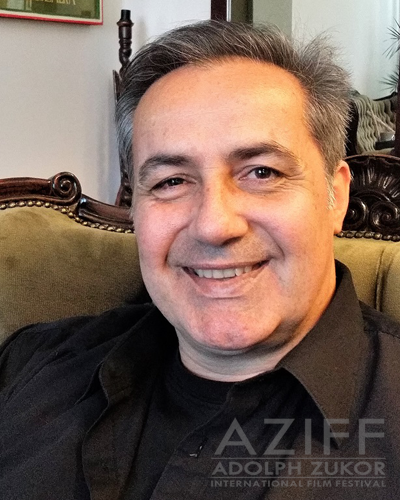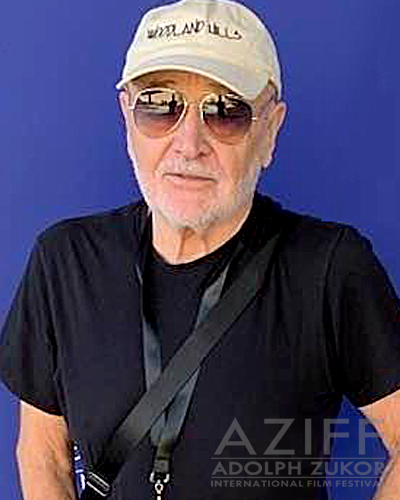 László Hargittai HSE
László Hargittai, or as most people call him, Pamacs,
is known as the editor of more than 50 films in the Hungarian film market.
In 2017 he won the Best Editing at the Top Indie Film Awards with the "Letters", a short film by Teréz Koncz.
He has been working together with Attila Szász, the director of "Now you see me, now you don't" (2005),
"The Ambassador of Bern" (2014) and the "Demimonde" (2015),
which was nominated for the best editing at the Hungarian Film Award in 2016.
He was also the editor of Atilla Szász's "Eternal Winter" (2018), which won –
among other awards – the Prix Europe Prize in 2018. Their latest project,
"Tall Tales" has been finished in January 2019.
From 2011 he has edited several awarded natural documentaries at Studio Hamburg/DocLights.
He teaches editing studies at the Budapest Metropolitan University and the University of Theatre and Film Arts
and other education institutes.
In the last 20 year at the international Mediawave Festival he is the head of film workshop, 2009 with Alan Heim.
Since 2010 he has been the Head Of Post Production of Origo Digital Film Studio
and participated several high-end international films such as Die Hard 5, Birdsong, Blade Runner 2049, Dune.
In 2021, received an Béla Balázs award.
László Hargittai is member of Hungarian Film Academy, President of Hungarian Society of Editors.
Gerda Pikali
Well-known Hungarian actress, voice actress.
In 1996, she applied to the University of Theatre and Film Arts with a thousand and one students, and was finally accepted with 17. She is currently a member of the companies of the Újszínház, the József Attila Theatre and the Körút Theatre. He has also previously performed at the Madách Theatre, the Örkény István Theatre, the Jászai Mari Theatre, the Thália Theatre and the Latinovits Theatre (Budaörs Spielszín) in Budaörs.
Her first theatre role was in 1998 at the Madách Chamber Theatre.
Her notable stage roles include Ophelia (William Shakespeare's Hamlet),
Mari (Ferenc Molnár's Liliom), Nusika (Róbert Koltai's Never Die),
Éva (Imre Madách's The Tragedy of Man)
Between 2014 and 2021,
she played an important role in the hugely popular Hungarian television series Jóban Rosszban (In Bad Things).
Since the late 1990s he has also dubbed in films, series, animated films and commercials.
He has dubbed in more than 400 films, 45 series and 37 animated films.
He has lent his voice to many famous foreign actresses, including Mila Kunis,
Halle Berry, Amanda Peet, Eva Mendes, Olga Kurylenko and Charlize Theron.
She is the Hungarian voice of Vidia in Tinker Bell and Le Shawna in Total Drama.
Her notable film roles include The Blue-Eyed One (1999),
Over Vityebsk (2000), The Tékás (2001), I Love Budapest (2001),
Tarka képzelet (2003), Montecarlo! (2004), The Knight's Day (2005),
Paper Dogs (2008), Pink Cheese (2009) and Üvegtigris 3 (2010).
Géza Sinkovics
He was born in Budapest, Hungary and worked at the Hungarian Television as a camera assistant and later as a cameraman on many documentaries and feature films.
He came to the United States in 1982. He attended the American Film Institute in 1983-84
and since he has been living in Los Angeles, California. His mentor was Vilmos Zsigmond,
Oscar winner cinematopgrapher.
His feature film credits as Director of Photography include: Delusion with Jennifer Rubin,
Undertow a ShowTime movie with Lou Diamond Philips, The Crew with Vigo Mortinssen
and The Last Seduction II. with Joan Severance which was filmed in Barcelona and Wales, UK.
For parts of many years he was filming – on location in Lithuania –
the TV series: The New Adventures of Robin Hood for Warner Brothers.
Back in Los Angeles, he photographed A Carol Christmas and The Long Shot for Hallmark Entertainment and recently completed a feature film, Metamorphosis with Christopher Lambert, filmed on location in Hungary, Austria and Germany. Besides a number of other feature films he has been involved with a few documentaries, some which were recognized at film festivals in Europe and in the U.S (Sick: The Life & Death of Bob Flanagan).
He is a member of the Hungarian Society of Cinematographers – HSC and the Digital Cinema Society.
Béla Buzogány
Born in Szeklerland, she graduated from the University of Theatre Arts in Târgu Mures with a degree in film, TV and theatre, majoring in theatre. As a student he was already given major roles in films and theatre productions.
He was an artist at the State Theatre of Oradea and the Csokonai Theatre in Debrecen,
where he played important roles. He studied journalism and directing and worked as an editor of four city newspapers.
At university and high school, he taught the art of acting, speech techniques and communication. He is the author of several plays and numerous lyrics.
He founded his own theatre. He has also worked as a guest director for other theatres.
His most important works as a director include Man, Animal and Virtue (Pirandello),
The Murder in Maxime Street (Labiche), Tartuffe (Moliere), A Midsummer Night's Dream (Shakespeare),
The Prodigal Son (Turcsán-Buzogány), The Dowry of the Plague (Fazekas-Buzogány),
Stephen the King (Bródy-Szörényi), The Petőfi Tit (Turcsán-Buzogány),
Who Will I Be? (several authors), etc. He graduated as a public cultural specialist in Debrecen.
Director of the Szentpétery Zsigmond Szentpétery Cultural Centre and Theatre in Mátészalka
for a decade and a half. He has been a Hungarian tradition keeper and creator.
With his distinctive theatrical and innovative public cultural activities
he strongly influences the cultural processes of Eastern Hungary.
He is a Pro Urbe, István Milotai Nyilas and Ferenc Kölcsey Prize winner.
Béla Bunyik
Bela Bunyik President of Bunyik Enterprises Inc., and executive producer and managing director of Bunyik Entertainment. Both companies were established in 1982 as film production and distribution companies of more than 900 foreign films across the United States and Canada.
Bunyik Entertainment is the US co-production partner in Hungarian feature films and documentaries including The Real Santa, Master and the Disciples, Green Card, Bunyik has also worked closely with Hungarian film director Janso Szasz, consulting with him on his documentary "Eyes of the Holocaust" (executive produced by Steven Spielbeg) and on Szasz's drama "The Witman Boys," which was Hungary's foreign-language film entry for the 1997 Academy Awards.
For television, Bunyik produced the series "Hungary in the 21st Century," which ran on the International Channel nationwide in the USA and Canada for eleven years.
Bela is also the Founder and Director of the Hungarian Film Festival of Los Angeles. Headquarters: Woodland Hills, California U.S.A
In 2019 (7-14 November), celebrated the 19th Hungarian Film Festival of Los Angeles. Bela has spent years giving an opportunity to Hungarian feature films, documentaries, short films and animation that otherwise may never be seen in the United States. The festival embraces films that are also made in other counties with Hungarian talent. The festival has gained a significant diverse audience following.
For the past years he has produced Academy Awards and Golden Globes campaigns for several Hungarian films in consideration of these awards.
Bela is responsible for recovering, restoring, and giving back his private collection to the Hungarian Film Archives more than 15 35mm feature films that were thought lost.
Bela served as the North American representative for the Hungarian National Film Fund and the Hungarian Producers Association at the AFM, Location Expo Los Angeles and Cannes Film Festival markets.
He received The·Golden Cross of Merit of the Republic of Hungary for distinguished service to Hungary and the Tony Curtis Award.
Adolph Zukor International Film Festival